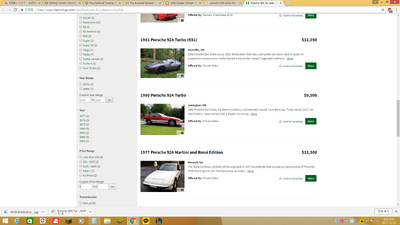 924 Turbos are being retailed at a same cost as a generic hot hatch, so why get a new car when you can get your hands on a real collectible?
Buying it
Daniel got his hands on a 924 Turbo on a used car website in hopes of getting a cheap exotic car. He only races on official tracks and race only intermittently.
Performance Stats
Division: A
Type: Track
Power: 182hp @ 5650rpm
Torque: 250N/m @ 3500rpm
Weight: 1300 kg
Pwr/Weight ratio(hp/1t): 140hp/ton
0~60 time: 6.8s(originally 7.3s; gearbox modifications and weight reduction took out 0.5s)
Drivetrain: Front-engine, RWD
Modifications
He keeps this car in trackday spec. However, being a track day car, his 924 was modded with 4 steel disc brakes(from Mazda RX7 FDs), as well as some suspension modifications, lifted from later 944 models.
To qualify into Group A, the engine is mostly stock, with only the exhaust tuned to reduce backpressure, adding 5 hp. Also, a 5 speed gearbox is replaced with a 6 speed from a non-quattro Audi A6.
Interior is minimalist, with race car influences.
The rear is all stock; however, pop-up headlights from the front of the car are removed and are replaced with 924 Carrera units.